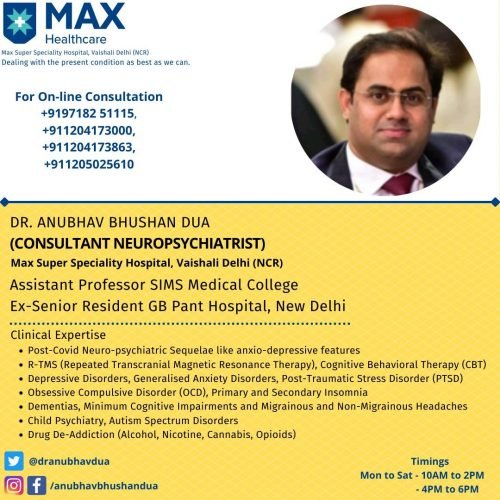 Dr. Anubhav Bhushan Dua
Mental & Behavioral Sciences
Consultant Psychiatrist
Max Super Speciality Hospital, Vaishali
Dr. Anubhav Bhushan Dua is a well-known Psychiatrist and Psychotherapist based in Delhi NCR extending exceptional yet affordable mental health care for over 12 years. Being a mental and behavioural expert he has been practicing Neuropsychiatry in various eminent hospitals and clinics.
Besides affiliation with many hospitals, Dr. Anubhav Dua has been professionally active in many other ways. Dr. Dua finished his senior residency from prestigious G.B Pant Hospital and Research Institute Delhi and is currently working as Assistant Professor involved in teaching and training undergraduate and postgraduate MD students at Sims Medical College. Dr Dua has done extensive work in the field of De-addiction program at Delhi Correctional Facility Dilshad garden. He has also served as Medical Officer in Post – Covid Neuropsychiatric clinic at Rajiv Gandhi Superspeciality Hospital, New Delhi catering to post covid neuropsychiatric sequelae symptoms of patients.
He specialises in Depressive Disorders , Anxiety Neurosis, Generalised Anxiety disorders , Social Anxiety and Panic Disorders, Non-Invasive Brain Stimulation procedures like RTMS (repeated trans-cranial magnetic resonance therapy) in treatment-resistent OCD and Depression.
He has worked extensively in areas of De-addiction Treatment, De-toxification programs and Substance- Use Disorders encompassing specially Alcohol, Nicotine/Tobacco, Opoids and Cannabis (Smoking), Compulsive Gambling and Internet Addiction.
He has been providing treatment for Psychotic disorders like Schizophrenia and ATPD (acute and transient psychotic disorder), Sleep Disorders like Primary and Secondary Insomnia, Dementia and Alzheimer's Disease, (MCI) Minimum Cognitive Impairments , Sexual Disorder like Erectile Dysfunction and Premature Ejaculation and Sexual Thoughts disorders, Stress Management, Social Anxiety disorders , Counselling and Rehabilitation with therapy like CBT, EMDR , DBT and ERP with Premarital Counseling, Bio- Feedback technique, Family therapy and Rational Emotive Behavior Therapy (REBT) Cognitive Behaviour Therapy (CBT), in Obsessive Compulsive Disorder (OCD) with special interest in treating child disorder like Adhd , Learning Disorders, Autism and Dmdd in children.
biography & experience
Awards & Honours
Area of Interest
Education
Currently working as Assistant Professor Psychiatry department - SIMS Medical College
 
G.B PANT HOSPITAL & RESEARCH INSTITUTE, New Delhi: SENIOR RESIDENT (3 years)
 
Extended residency in DE-ADDICTION CENTRE in Dilshad Garden Correctional Facility Complex, New Delhi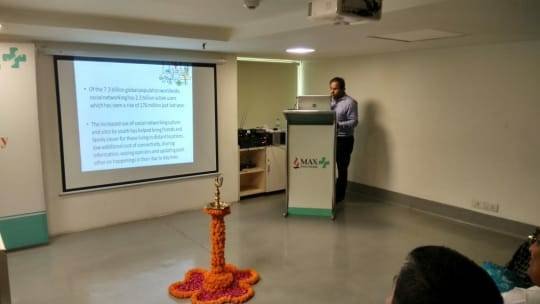 2012: Problem Solving for Better Geriatric Mental Health Workshop
 
2013: Teaching – Learning Methodology , 
 
Presented papers at Golden Jubilee CME 2015; GERON-2013 (Lucknow) entitled "Late Onset OCD with Raised ASO Titres, & at CIPCON 2014 (Indore) entitled " A Study To Assess Emotional & Behavioural Problems in School Going Children in & around Meerut"
 
Poster at state Conference U.P entitled "Case series of Psychiatric Disorder with Deranged Anti-Nuclear Antibodies Profile – A Chance Finding or something Else ?"  
☞ Mental & Behavioral Sciences
☞ RTMS THERAPY (Repeated transcranial magnetic resonance therapy)
☞ ADULT BIOLOGICAL PSYCHIATRY
☞ Anxiety/Depression/Schizophrenia disorders
☞ Sexology
☞ Cognitive behavioral therapy
☞ De-addiction specialist (alcohol, opioids, cannabis, nicotine)
☞ Counselling and psychotherapy (marital & family)
☞ Child & Geriatric psychiatry
☞ Headache
☞ Suicidal tendency management
☞ Alcohol anonymous help
MBBS: Mahatma Gandhi Medical College, Indore
MD (Psychiatry): SMC, Meerut